Sales Training for Enterprise Sales Teams in Edison, NJ
Navigate through a complex sales cycle to a successful finish
It takes time, energy, commitment and money, but the payoff can be huge.
Huge wins require huge effort—make sure it pays off.
Selling to a single buyer can be challenging enough. When you're selling into an enterprise organization, you're dealing with multiple layers of decision makers, complex contracts, and long-cycle negotiations. Even a seasoned sales teams can be taken by surprise working with an enterprise opportunity.
In order to be successful, you have to win the business AND exceed their expectations on delivery, in order to expand the relationship over time.
Enterprise sales as a business objective sounds simple enough, but it presents unique opportunities and challenges.
Knowledge is power. Know what you're up against with enterprise sales.
Today's top performers are always prepared. It's how they run the game.
When you've heard enough about "what" you should do, and you're ready to learn "how" to do it.
Success in the enterprise arena
Sandler Enterprise Selling in the news
Read about all the success and media coverage on Sandler's Enterprise Selling program, including the most recent book launch in partnership with McGraw Hill, Sandler Enterprise Selling: Winning, Growing, and Retaining Major Accounts.
PREPARE FOR THE HUNT
Can you use today's digital networks as a practical approach to enterprise prospecting?
YES. Today thousands of C-level executives, directors, and their enterprise decision makers are actively participating and responding to new opportunities online.
YOUR TRUSTED EXPERT FOR SALES AND MANAGEMENT ADVICE
The Sandler Blog
Insight and tips on current sales, sales management, leadership and management topics. We invite you to comment on our posts and to pass them on to your colleagues.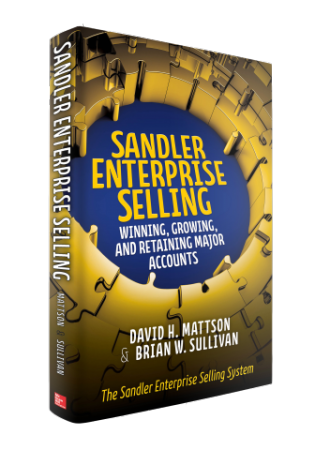 Sandler Enterprise Selling—The Book
Competitively pursuing large, complex accounts with multiple constituencies and decision makers is a huge challenge for sales professionals. This latest Sandler book provides a practical six-stage approach for winning business with profitable enterprise clients, serving them effectively, and expanding the relationship over time.
TURN YOUR CONTACT LIST INTO YOUR OWN PROFIT CENTER
Experience today's top-performing sales programs in person or online.