Sandler's Annual Summit
Every year we all come together for two incredible days of training and networking
unparalleled professional growth and networking
The Sandler Sales & Leadership Summit
Every year, over a thousand of the world's top sales, leadership, and management professionals gather at a resort location for the Sandler Summit, where we network, share ideas, celebrate each other's successes and participate in sessions led by top Sandler training professionals.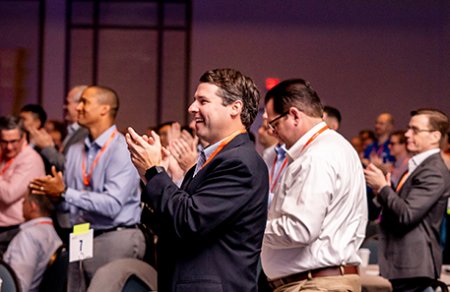 Join Us March 4-6, 2020
We're hosting the 2020 Sandler Summit at the beautiful Rosen Centre in Orlando, Florida. We hope you and your colleagues will join us for two days of intensive world-class training and high-energy networking with like-minded business professionals from around the world.
Up-to-the-minute sales and management sessions facilitated by the top presenters in the world, including David Mattson, CEO and President of the Sandler organization.
Collaborate and network with other successful, highly motivated professionals across all industries.
Leave the event with game-changing key takeaways that you can put into action immediately.
COME TO THE SANDLER SUMMIT IN 2020
Here's a peek from 2019—and it keeps getting better every year!
Each new event builds exponentially upon the energy and success of the prior year. The 2019 Accelerate Your Success event was a huge success for everyone who attended, so don't miss the next one!
The Sandler Blog
Sales, Management & Leadership—at the Summit!
Every year gets bigger and better. Search 'Summit' on our Blog, or #SandlerSummit on your social channels for more pictures, videos, stories and information!