Selling Professional Services—The Sandler Way
Or: "Nobody Ever Told Me I'd Have to Sell!"
Believe it or not, sales can be fun
You can enjoy the process of expanding your client base and developing a successful practice.
How? By taking skills you've already mastered and enjoy deploying in your professional services—and deploying them in a slightly different way. Or so Chuck and Evan Polin, authors of Selling Professional Services The Sandler Way, teach their clients.
This book addresses the needs of professional service providers who want to...
Learn how to turn low-margin (or no-margin) client relationships into high-value, win-win engagements.

Learn how to get new clients without giving away so much unpaid consulting.

Be a rainmaker for your firm, but aren't sure how to accomplish that goal without being 'pushy.'
Get a FREE sneak preview
Download a sample chapter of Selling Professional Services The Sandler Way to find out about consistent, predictable practice development.
Chuck and Evan Polin
About the Authors
Chuck and Evan Polin are a father-son training team with more than two decades of experience in the Sandler organization. They are the CEO and President, respectively, of The Training Resource Group, Inc., a Sandler Training Center located in the metropolitan Philadelphia, Pennsylvania market.
Chuck Polin has been a Sandler Trainer for more than 20 years, and brings over 40 years of sales, sales management and corporate executive experience to the firm. The Greater Philadelphia Chamber Of Commerce named Chuck Polin the Small Business Person of the Year in 2009.
Evan Polin joined his father's business in 2001, bringing a wealth of training and coaching experience, providing business development workshops for Bar Associations, the AIA, University Alumni Associations, Chambers of Commerce, and Professional Associations. Evan has spoken at national and regional conferences, provided training programs for Fortune 500 companies, and provided Critical Incident Stress Debriefings for companies in New York City and northern New Jersey after September 11th.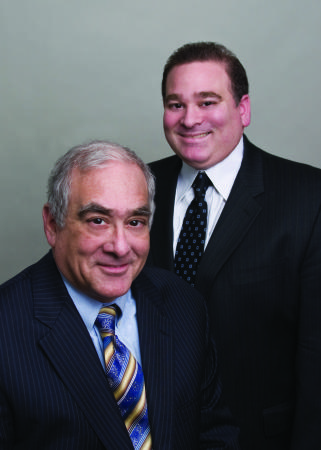 Learn that 'sell' isn't a dirty word
A sales book especially for professional service providers
Authors and Sandler trainers Chuck and Evan Polin discuss their latest book, Selling Professional Services The Sandler Way, and how Sandler's principles can have a major impact on practice development.
Must-have information for law firm partners and other professional service providers.